Ongoing. Please email: [email protected] to inquire.
Explore the history of Roman bread-making with experimental archaeologist and food-writer, Farrell Monaco, this summer in Rome, Italy.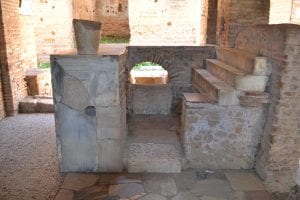 Join Farrell Monaco for a day of touring and recreating the culinary history of ancient Rome. Spend the morning touring the ancient bakeries, granaries and eateries of the oldest Roman port city, Ostia Antica, which was known as 'the mouth of Rome' as it was the first port that controlled all of Rome's food importation during the Republican and Imperial periods. After the tour, and a quick lunch, the tour group will spend the afternoon baking ancient Roman breads in a local commercial kitchen. Learn about the bakers, the ingredients, the technologies, and the techniques involved in baking bread, just like the ancient Romans, while gaining bread-baking knowledge that you can take home and use for your own future bread-baking projects. The day will finish with bread tastings accompanied by Italian D.O.P. cheeses, olive oils, honey and a glass of wine. Participants will leave with a booklet of ancient Roman bread recipes, a complimentary tote-bag, and a fully belly!
Duration: One-day excursion, 9 hour day.
Transportation: All transport for the tour/class will be provided from a meeting point in the Piramide/Porta San Paolo area.
Class sizes are small and limited space is available so register now!
Click here for further information regarding this event and others being offered in 2019: https://tavolamediterranea.com/category/classes-and-retreats/
See you in Rome!