This event has been cancelled due to the Coronavirus pandemic and associated health and safety precautions and travel restrictions.
"On a balmy, starlit night more than 40 people are seated at a table that runs the length of the inner courtyard of Castello di Potentino, a medieval castle in southern Tuscany. Through openings in the wall you can glimpse the slopes of Monte Amiata. The mountain was sacred to the Etruscans, whose civilisation flourished in this area from around 900 BC until they were absorbed into the Roman Empire almost 900 years later. Tonight the diners are here to eat like Etruscans, enjoying a candlelit banquet of delicacies – the result of nine hours' work from a team of five cooks, and months of research by a Canadian archaeologist, Farrell Monaco. We are here to taste the past, in the form of heaped dishes that were first created more than 2,000 years ago."

John Hooper- The Economist, 1843 Magazine (Dec 2019):
The Old School Kitchen: From the Etruscan Table to the Roman Banquet (July 5-11, 2020): A 6-day Culinary Retreat Exploring Ancient Etruscan, Greek and Roman Food and Ancient Recipes In The Heart of Tuscany. Due to popular demand, this third session is being scheduled and designed to accommodate educators and students. This week-long session takes place from July 5-11, during the summer school break, and promises to be both engaging and educational.
Join food archaeologist, Farrell Monaco for a 5-day live-in edible archaeology master class at the palatial Castello di Potentino, a medieval castle hidden in a valley in the Tuscan countryside, as we explore the food history and archaeology of Etruria, Magna Graecia, and Rome from 800 BC to the Imperial Roman Era (AD 476). July 5-11, 2020 – Monte Amiata (Tuscany), Italy.
The master class will be comprised of 10 sessions held at the iconic Castello di Potentino, a restored medieval castle, that is situated in the heart of an ancient Etruscan valley in Tuscany, Italy. Originally a medieval castle built over an Etruscan settlement, the towering castle boasts three kitchens, two dining rooms, 11 large guest rooms, a pool, an olive grove, a wine cellar, and a vineyard that produces award winning wines. In the surrounding area are Etruscan archaeological remains that take us back 2,500 years in time to a place that is pre-Roman but that is key to the development of Roman food culture and the Roman civilization itself.
Your hosts pride themselves in providing a culinary experience that is authentic and based on legitimate historical data. Daily workshops will begin with a lecture in the medieval chapel adjacent to the castle followed by hands-on cooking, the use of ancient food preparation technologies, ancient meal preparation and bread-making lessons, the use of ancient herbs and spices, foraging, archaeo-hikes, walking tours of Etruscan and Roman food-related archaeological features in-situ, ancient food-processing workshops, bathing in an authentic public Roman bath, and a live musical performance of Etruscan/Tuscan music. The week will finish with a Roman banquet fit for an Emperor. Lessons and recipes will be compiled using authentic sources and peer-reviewed research from the Etruscan, Greek and Roman archaeological, written and pictorial records. Participants will also enjoy a foraging trip into the countryside with a local resident who will teach us how to identify and prepare edible wild herbs and fungi that are indigenous to the valley and have been used for culinary purposes for millenia.
About your host:
Farrell Monaco is an archaeologist and food-writer whose research centres on food, food preparation, and food-related ceramics and technologies in the Roman Mediterranean. Farrell is well known for her experimental archaeology projects where she painstakingly recreates Roman recipes using instruction, ingredients, and technologies sourced from the archaeological, written and pictorial records. Her blog, Tavola Mediterranea, was nominated for a Saveur Blog Award (2018) and her work has been spotlighted on Atlas Obscura, The Ancient History Encyclopedia, The Guardian, Verve Magazine, Radio New Zealand, Made in Pompei and the BBC. Farrell's current research is focussed on ancient Roman bakeries and bread production. She is a member of EXARC, the Archaeological Institute of America, and she sits on the media relations committee of the Society for American Archeology.
In 2018, Farrell launched 'The Old-School Kitchen', a public-education touring arm of her food-blog, Tavola Mediterranea. The Old-School Kitchen brings food archaeology and experimental culinary archaeology into live settings where the public can explore, engage, learn and discuss food archaeology, experimental archaeology, and sensory archaeology in lecture settings or through cooking workshops. Farrell is publishing her first book in 2020 that will shed new light on Greek, Etruscan and Roman food culture and food archaeology from a very unique, exciting and critical perspective.
Farrell resides in California with her husband and 2 dogs. In her free time, she bakes bread in her wood-fired outdoor ceramic oven and is learning to read Latin epigraphy. Her efforts to install a high-volume donkey-powered rotary grain-mill in her back yard remain fruitless but she will continue to try to find inroads.
About the Venue:
Castello di Potentino is an ancient castle built on an Etruscan site. It lies in a secret valley in one of the last undiscovered corners of Tuscany – Monte Amiata. The medieval building is surrounded by unspoilt countryside, dotted with the vines and the ancient olive trees used for the estate's small production of high quality wine, grappa and olive oil. Agriculture and viticulture are about growing and living, so eating and drinking well are an important element in the Potentino ethos which is concerned with the sustainability of how we inhabit a place and relate to it physically and mentally.
Registration fee:
Registration fees range from €2280 to €3,330 per person based on accommodations. Daily non-residential rate: €280.
Accommodation inquiries can be directed to: [email protected]
Included in the price:
Six nights' accommodation at the palatial Castello di Potentino. Available accommodation is in double and triple occupancy rooms suited for singles, couples, friends, or family members. Each room has its own en-suite bathroom or a dedicated private bathroom with shower or bath.
Group transfer from/to central Rome at the beginning and end of the retreat.
All excursions, including foraging and a nature and archaeology hike through the valley.
Five days of lectures, workshops, and cooking that will cover Etruscan, Greek and Roman food archaeology, agriculture, foodstuffs, food imagery, and food culture.
All meals, non-alcoholic refreshments, and snacks.
Workbook and reference materials.
Potentino wine-tasting.
A day-trip to a Roman thermal bath complex.
A day-tour to view ancient grain mills.
A complimentary tote-bag with gifts, souvenirs, local organic products, and custom-made cooking and baking implements.
Friends for life!
Not included in the Registration Fee:
Flights and airport transfers.
Medical and Travel Insurance.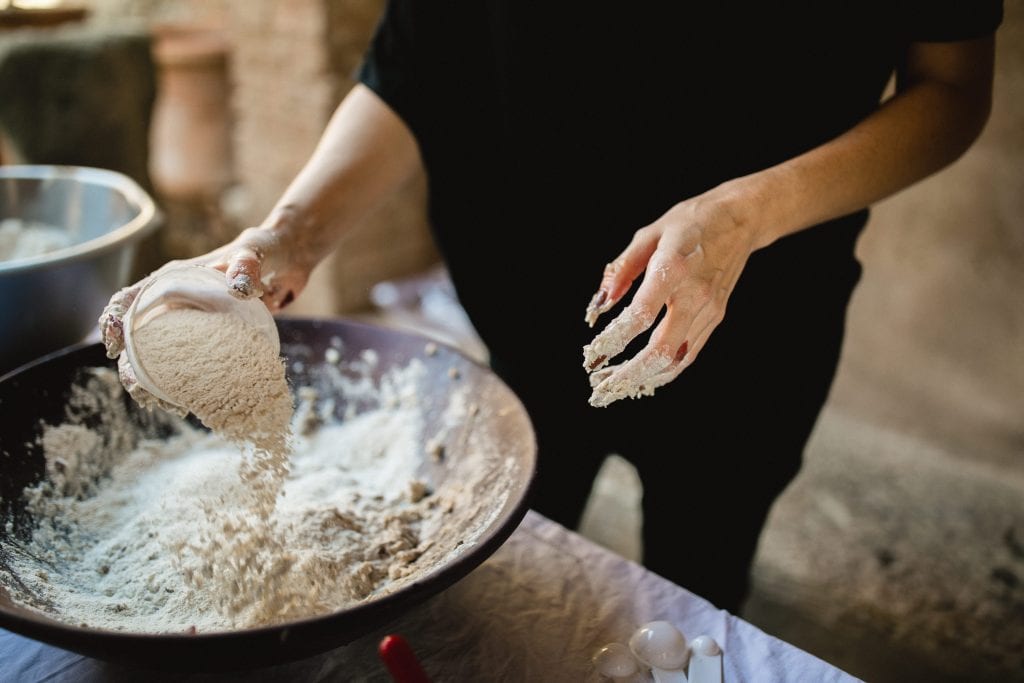 For payment and booking:
Registration requests can be directed to:

[email protected]

A deposit of 50% is required to register for the retreat with the final 50% payment due by 1 April 2020.
Register soon as space is limited!
Unless the event is cancelled on our end, due to the planning and logistics costs, we cannot offer any cancellations or refunds.
See you in Tuscany… and keep cooking it old school!
______________________________________________________________________________
2019 Reviews:
"The Old-School Kitchen culinary retreat at Castello di Potentino was one of the most incredible and memorable retreats I have ever attended. It was both very educational and super fun. Farrell put together the most amazing set of recipes which we got to make daily for lunch — delizioso. The setting couldn't be any more fitting. The castle, the lectures, the activities, and the recipes were in great harmony and complemented each other well. The retreat takes you back to the Etruscan era but with all the comfort and luxuries of the 21st century. We sat for hours eating, drinking, and having the most interesting conversations. On top of it all, Farrell with her beautiful and gentle manner was always available to answer my questions with her wealth of knowledge. Truly an admirable and inspirational woman. Thank you Farrell for a unique and unforgettable experience."

– Nooshin S.
"The Old School Kitchen: Etruria was a 5-star experience of my dreams! I've been fascinated by the ancient civilizations of the Mediterranean since I was little and studied Classics in college, and this week-long retreat was really an amazing way to not only learn more about the Etruscans and Romans, but to sample life as they might have known it. Farrell is a brilliant experimental archaeologist with a knack for presentation and instruction. Her lectures were always engaging and left me wanting to learn more. Each morning lecture featured the art, writings, and archaeological evidence of different foods and meals had by the Etruscans and Romans. After the lecture, we would hit the kitchen and make the food that we learned about during the lecture for lunch and that evening's dinner.

The location at Castello di Potentino was dreamy. The owner, Charlotte, was a delightful hostess and shared her knowledge of the history of the castle and the area with such joy. The location really helped me imagine what it would have been like 2500 years ago while I was eating the grape must cakes and drinking defrutum that we had made earlier that day. On our "off" day during the retreat, we had a guide walk us around the property for some foraging and it was really cool to learn about all the different edible plants that were available. We also went to the [I can't remember the hot springs!] hot springs and saw the ruins of an old bread mill and then soaked our stresses away in the mineral-rich waters of the hot spring. "

– Montine R.
2018 Reviews:
"Farrell spoke at the Dallas Museum of Art as part of our Boshell Lecture Series on Archaeology. With an engaging and relatable presentation style, she described what archaeologists can learn about ancient peoples by studying their food ways and what is known about the diets of communities throughout the Roman Empire. Farrell's passion and curiosity were infectious as she shared findings from her own archaeological fieldwork researching and recreating ancient recipes. After the program, audience members remarked on how engaging and informative the talk was."

— Jessie Carillo, Manager of Adult Programming, Dallas Museum of Art
"Farrell Monaco is a charming and engaging presenter with a deep wealth of knowledge on Roman and Mediterranean foodways. During our Terroir Tuscany program, Farrell lead our group through the history of Etruscan culture with a focus on the importance of bread. Her expertise and passion for her subject, gave us a deep insight and appreciation for the importance of this society and the impact they had on the region. What was most interesting is that she took our group through the practical application of this learning simply by recreating and making the bread of this ancient group of people. With both the academic knowledge and the hands-on experience, it allowed everyone to truly understand the reality of the day-to-day life of the Etruscans. All Terroir delegates left extremely enthusiastic about her presentation and workshop, with a desire to learn more."
— Arlene Stein, Executive Director, Terroir Hospitality
"Farrell Monaco gave a stunning and fascinating presentation on Etruscan and Roman bread at the Terroir Tuscany Symposium held in the Castello di Potentino this November – with some potentially ground breaking discoveries about leavened bread use in ancient Etruria! First we had an enlightening talk with excellent illustrations from tombs and some archaeological sites where she is excavating. Then, she completely engaged us with practical hand's on demonstrations, grinding flour from the grain and even baked the most delicious examples of this type of bread for us with her special Pompeian yeast called 'Popidius' so that we had some little, adorable Etruscan buns wrapped in bay leaves with cumin and grapes with our meals. Delicious and intriguing. Farrell's approach to discovering the secrets of the past is based not only on study and field work but on the experience of trial and error with ancient techniques and ingredients – getting your hands into the matter to comprehend texture, observing the reactions of the yeast and reproducing tastes that have not been enjoyed for millennia. She opened a door into the past through taste with ease and we all were guided skillfully through."

— Charlotte Horton, Owner/Operator, Castello di Potentino