A Culinary Retreat and Feast Exploring Ancient Etruscan Food Culture and Archaeology In The Heart of Tuscany
Join food archaeologist, Farrell Monaco, and vintner, Charlotte Horton, for a weekend Etruscan feast at a palatial Medieval castle hidden in the Tuscan countryside. Explore and indulge in the food history, art, and archaeology of Etruria from 900 BC to the establishment of the Roman Republic in 509 BC. The final night's proceedings will close with a recreated extravagant and indulgent Etruscan feast, based on the archaeological record, complete with feast servants, appropriate attire (we've got you covered…), and live entertainment. June 28 to 30, 2019 – Monte Amiata (Tuscany), Italy. Register now as space is limited!
The weekend retreat will be comprised of several daily sessions ranging from food archaeology lectures, hands-on edible archaeology cooking and baking workshops, cheese-making, wine-tastings, vineyard tours, and archaeology hikes through the valley surrounding the iconic Castello di Potentino: a restored medieval castle that is situated in the heart of an ancient Etruscan valley in Tuscany (Italy).
About your accommodations:
Originally a medieval castle built over an Etruscan settlement, the towering Castello di Potentino boasts three kitchens, two dining rooms, 11 large guest rooms, a pool, an olive grove, a wine cellar, and a vineyard that produces award winning wines. In the surrounding area are Etruscan archaeological remains that take us back 2,500 years in time to a setting that is pre-Roman but that is also key to the development of Roman food culture and the Roman civilization itself.
About the event:
Your hosts pride themselves in providing a culinary experience that is authentic and based on legitimate historical and archaeological data. Daily sessions will begin with a presentation in the medieval chapel adjacent to the castle followed by sessions that include: edible archaeology cooking and baking, the use of ancient food preparation technologies, ancient meal preparation and bread-making lessons, the use of ancient herbs and spices, archaeology hikes, foraging trips, wine-tastings, cheese-making, culminating with an indulgent Etruscan feast on the closing night that will provide participants with an immersive experience as to what it was like to dine with the Etruscans. Lessons and recipes will be compiled using authentic sources and peer-reviewed research from the Etruscan archaeological, written and pictorial records. And if you'd rather relax and have drinks by the pool… that's an option as well!
About your hosts:
Farrell Monaco is an archaeologist and food-writer whose research centres on foodways, food preparation, and food-related ceramics in the Roman Mediterranean. Farrell is well known for her experimental archaeology projects where she painstakingly recreates Roman recipes using instruction, ingredients, and technologies sourced from the Roman archaeological, written and pictorial records. Her blog, Tavola Mediterranea, was nominated for a Saveur Blog Award (2018) and her work has been featured on Atlas Obscura, Radio New Zealand, Made in Pompei and the BBC. Farrell's current research is centred on ancient Roman bakeries and breads. She is a member of EXARC, the Archaeological Institute of America, and she sits on the media relations committee of the Society for American Archeology. Web | Instagram | Twitter | Facebook
Charlotte Horton has been making award-winning wines in Tuscany for over 20 years. She has restored two Castles in Tuscany. At the second, Castello di Potentino, she has revitalized an abandoned estate, planting new vineyards, bringing olive trees back into production and creating a cultural centre, aka 'The 21st Century Castle', where people can stay in a rural family atmosphere. She has been running food and wine pop-up events in Italy, Canada, New York, London, Ireland and France since 2010. Charlotte is currently working on a book about Potentino Life with photographer Michael Woolley.
Before moving to Italy, she worked for Vogue Magazine, Secker and Warburg Publishing House and then as a freelance journalist. In 2013, she was recognized as one of the Barclay's Women of Achievement.
About the Venue:
Castello di Potentino is an ancient castle built on an Etruscan site. It lies in a secret valley in one of the last undiscovered corners of Tuscany – Monte Amiata. The medieval building is surrounded by unspoilt countryside, dotted with the vines and the ancient olive trees used for the estate's small production of high quality wine, grappa and olive oil. Agriculture and viticulture are about growing and living, so eating and drinking well are an important element in the Potentino ethos which is concerned with the sustainability of how we inhabit a place and relate to it physically and mentally.
Registration fee:
Registration fees range from €760 to €1,110 per person based on accommodations. Daily non-residential rate:
€305.
Accommodation inquiries can be directed to: info@tavolamediterranea.com
Included in the price:
Two nights' accommodation at the palatial Castello di Potentino. Available accommodation is in double and triple occupancy rooms suited for singles, couples, friends, or family members. Each room has its own en-suite bathroom or a dedicated private bathroom with shower or bath.
All meals, non-alcoholic refreshments, and snacks. Complimentary wine-tasting included.
All excursions, including foraging and a nature and archaeology hike through the valley.
Two days of programming that will cover Etruscan food archaeology, agriculture, viticulture, foodstuffs, and food imagery.
Group transfer from/to central Rome at the beginning and end of the retreat.
Reading and reference materials.
A complimentary hand-made linen bread-bag with local organic products and souvenir kitchen implements.
Not included:
Flights and airport transfers.
Medical and Travel Insurance.
For payment and booking:
Registration requests can be directed to: info@tavolamediterranea.com
A deposit of 50% is required to register for the retreat with the final 50% payment due by 30 April, 2019.
Register soon as space is limited!
Unless the event is cancelled on our end, due to the involved logistics and upfront costs, we can't offer any cancellations or refunds.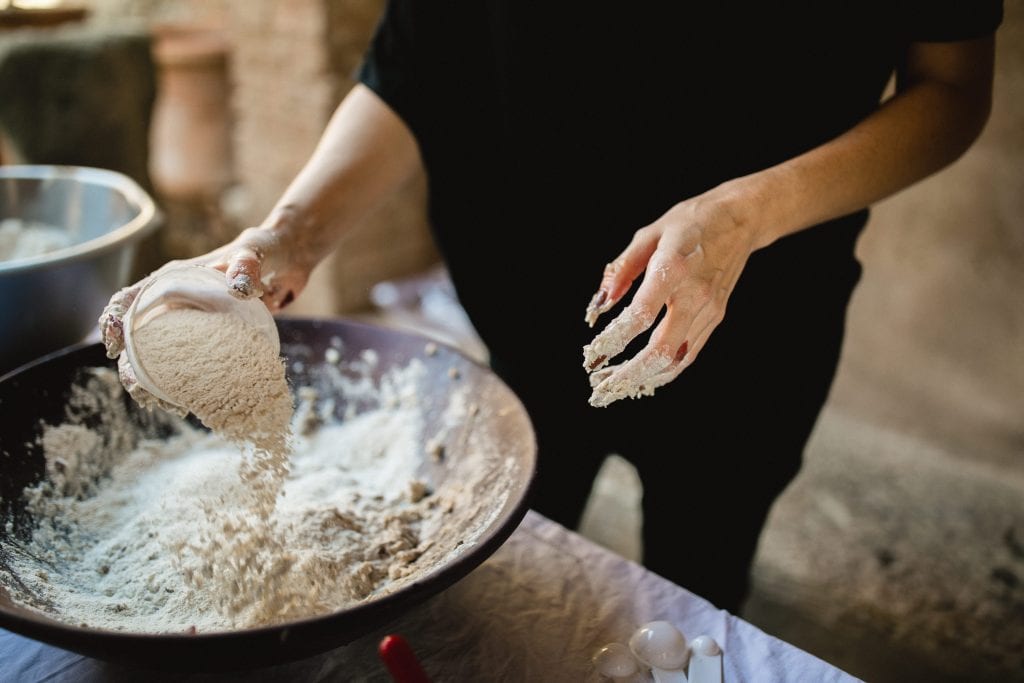 See you in Tuscany… and keep cooking it old school!
Summary
Event
​
The Old School Kitchen: Etruria
Location
​
Castello di Potentino

,

Agricola SRL Castello di Potentino

,

Seggiano

,

Tuscany

-

58038 (GR) P.IVA
Starting on
Ending on
Offer Price